Good morning friends. I hope your morning started out better than mine! I'd tell you about it but in the words of my son Michael, age 28, he would say TMI! So I will spare you! :) Today I am participating in Night Owl crafting's Hoo are you? post.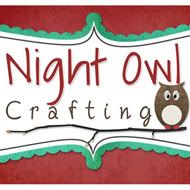 1. Do you prefer sweet or salty foods?
I don't think I prefer one over the other. I like them both! I LOVE chocolate and Swedish fish but I also love pretzels. I was one happy girl when they started making gluten free pretzels!
2. Name your 3 BEST personality traits!
Responsible, trustworthy, friendly. PS. It is pretty bad when you have to do a google search for a list of personality traits. :)
3. Name your 3 worst personality traits!
Insecure,

U

ndisciplined, and Selfish with my time.
4. Do you collect anything?
I used to collect Precious Moment figurines when I first got married. Now I am collecting fabric and sewing books!
5. What is your favorite season of the year?
I love the spring time. I love watching my perennials start to come up in the garden. Knowing that winter is over and you can open up the windows is wonderful!
Well, that was a lot of introspection for one day! :) Do you want to play along? I'm linking up here.
Blessings,